The Bowel and Liver Trust are looking for Gutsy Hero's to enter The Star City to Surf Fun Run/Walk as part of our Team to raise money for all those in Canterbury who have Chrons or Celliac disease, or have experience the loss of family through bowel cancer. The event is on one Sunday in  March 2019 so plenty of time to train up!
What a team of great Gutsy heroes the Bowel and Liver Trust had in last year's event! Let's be bigger and better this year!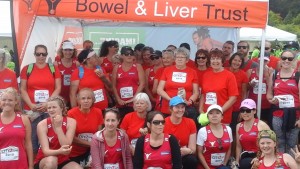 ​ We will provide you with an official Bowel and Liver Sponsor's sheet to help you raise some money Join up with us on our site at the end of the run.
Joined our Gutsy Hero team, early by filling out the form below to get a free Gutsy Hero T Shirt. We will then be able to advise you when the early bird registrations open
---
Free Gutsy Hero T Shirt
Have you joined our Gutsy Hero team? Then fill out this form to get yout free Gutsy Hero T Shirt. We will advise when these are available for Pick up.